832 - 1297 Sq.Ft.

Carpet Area

Rahatani, Pune

Project Location

December 2027

Possesion Date
Legacy Kairos
2&3 BHK Apartments in Rahatani, Pune
Legacy Kairos appears to be a residential apartment complex offering modern and convenient living in a prime location.
Location: Legacy Kairos is situated in the heart of Rahatani, Pune. The area is known for its proximity to shops, restaurants, and other essential amenities, making it convenient for residents.
Apartment Features: The apartments in Legacy Kairos are described as spacious, equipped with modern amenities, and aesthetically designed. All units are air-conditioned and have large balconies offering stunning views of the city.
Lifestyle Amenities: The apartment complex offers a range of lifestyle amenities, including a fully equipped gym, swimming pool, spa, and children's play area. These amenities provide residents with opportunities for fitness, relaxation, and recreational activities.
Convenient Location: One of the significant advantages of Legacy Kairos is its proximity to IT parks, universities, and other educational institutions. The area is well-connected to the rest of the city through public transport and local roads, making commuting easier for residents.
Recreational Activities: The complex is located near shopping centers, restaurants, and entertainment venues, offering residents various options for leisure and entertainment. Additionally, the vicinity of parks and gardens allows residents to enjoy outdoor activities and stay close to nature.
Living at Legacy Kairos appears to offer a convenient and luxurious lifestyle for those who value modern amenities, a well-connected location, and access to nearby amenities. It provides a blend of urban living with recreational opportunities and access to essential facilities.
Download Brochure
Legacy Kairos Configuration
Configuration

Carpet Area

Price*
Complete Costing Details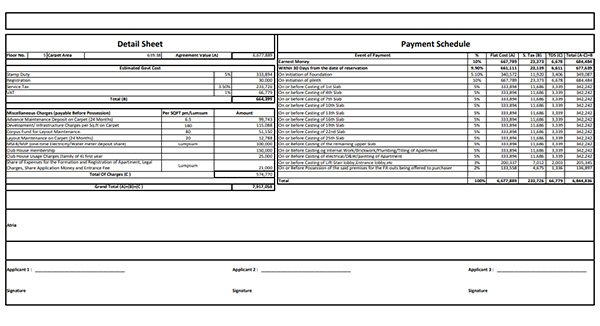 Amenities Legacy Kairos 2&3 BHK Apartments in Rahatani, Pune
Multipurpose Hall
Outdoor Games
Power Backup
Security
Swimming Pool
Yoga
Gymnasium
Indoor Games
Kids Play Area
Mini Theater
Badminton court
Skating ring
Toddlers'outdoor pool
Designer clubhouse
Amphitheatre
Peripheral planting of medicinal shrubs/plantation
Specifications Legacy Kairos 2&3 BHK Apartments in Rahatani, Pune
Digital Locks:-
Experience enhanced safety.
Rain Shower:-
8" Grohe/equivalent brand shower for the feel of
rain in your bathroom!
Invisible Grills:-
Bird nets that don't obstruct your view.
Safety grills for all windows
Flooring-
Master Bedroom: Vitrified flooring
Balcony: Vitrified flooring
Kitchen: Vitrified flooring
Other Bedroom: Vitrified flooring
Living/Dining: Vitrified flooring
Toilet: Antiskid ceramic tile flooring
Walls-
Kitchen: Ceramic /Glazed tile upto 2 ft. above the kitchen platform
Toilets: Ceramic Glazed tiles dado upto lintel level
Fitting-
Toilets: Jaguar or equivalent C.P. fitting with hot & cold mixer
Electrical: Concealed copper wiring with modular switches
Geberit Plumbing:-
Low maintenance, concealed plumbing. Prevents
leakage and seepage.
Legacy Kairos 2&3 BHK Apartments in Rahatani, Pune
Check Out Floor Plan For Legacy Kairos
Legacy Kairos Rahatani, Pune Location
Check Out the exact location of the Legacy Kairos Project in Baner.
Properties In Similar Projects
Legacy Lifespaces
The company has been creating landmarks for over 20 years now and has developed constructed and delivered over 50 projects under different categories serving all categories of customers and having a clear vision to redefine the vast expanses of Pune into a happy skyline of fulfilled dreams.
A brand that stands tall with true intentions and high morals. Each project attempts to go above and beyond, enabling a dream lifestyle. Every home is an amalgamation of values of excellence, style, and timeless architectural planning, resulting in unique contemporary living places.
Project Enquiry - 9970420008
Legacy Kairos Rahatani, Pune
Get In Touch